If you couldn't tell from past posts, I like food and I like to make food. To celebrate 100 followers, my 100 items is marshmallows! Have you ever seen those beautifully iced cakes that look like they're not even cakes? Fondant makes the cake look so good. I found an easy and kind of tasty way to make fondant using marshmallows, powder sugar, water, and some good ol' shortening.
My mom and I found this website with the recipe a couple years ago and have loved experimenting with it.
Click here
for the link and recipe.
The website explains it better than I can so I'll let you readers explore the making. Now for dying the fondant, that's where the fun comes in. My mom and I had to experiment with how to do this without dying our hands. We found that if you take a baggy and put a section of the fondant in the baggy along with some food coloring (look on the packaging to see how to get a certain shade.) Knead the fondant in the baggy until the color is even. The fondant should absorb the food color and it shouldn't spread to your hands once you take the fondant out of the baggy. Roll it out, cut it out, twist it, do whatever you want to create your very own fancy cake. First, ice the cake (also known as dirty icing) then put the fondant over it. You can use water to attach stripes, shapes, or whatever you want.
This is the cake Jordan and I made for Rebecca's 2nd birthday. Instead of frosting we used apricot jam on butter pecan cake. Super delicious!
Ok...so I didn't count the marshmallows but we can just say we did ;)
____________________________________________________________________________
Just Jaime is guest posting at
Chica es Aristica
today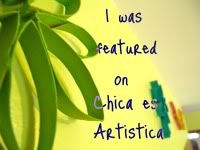 She is sharing this $2 Wreath.
Go take a look =)