I thought I'd give you guys a peek into my creative process today.
I made three inspiration boards for Brooke to choose from back in February. She chose our "Heaven Sent/Angelic Theme" which I loved too =)
From there I started thinking about how I wanted to do the invites. I found this image on Pinterest:
Isn't it adorable? I can't find a photo credit for it ANYWHERE so I can't give any credit for it, but I wish I could.
I wanted to use baby feet as a "v" in my invite. So I decided to make the invites saying "Heaven Sent" with the "v" being baby feet. I went to Joann and TOTALLY lucked out. They had these stamps there, calling my name: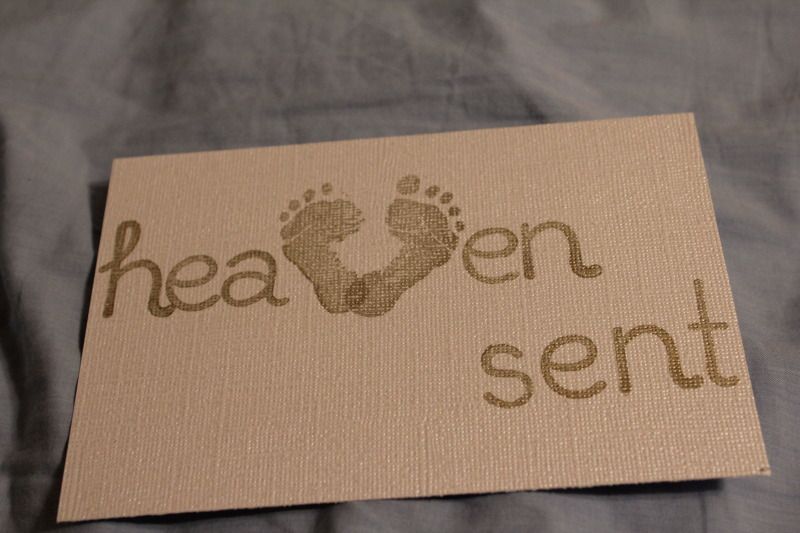 The cardstock was gorgeous, you can't tell in this picture, but check it out
here
I also used some of
this
because the store ran out of the gemstone.
The hardest part was the computer part--I printed the actual invitation on the opposite side of the cardstock. Making the size right proved difficult for my computer to comprehend. Eventually I tricked it by using skinnier paper but not telling it.
How would you use baby feet?


The shower is this weekend! Next week I'll share the decor, food and games. It'll be a monster post!
Don't forget about this week's giveaway!
We've got the craft organizer up for grabs,
Be a follower of the blog AND
Comment on any new post this week (before the end of Sunday).
Every comment is another entry, and every post this week is eligible! The winner, to be drawn at random, will be announced next Monday!