Rachel and I met our freshman year of college. She is a fun, spunky, and positive person. I've always been impressed by her art. Now she's doing furniture redos and they're amazing! I'm so glad to have her here! Take it away Rachel!
First of all, I am so thankful for this opportunity! Jaime and I became friends in college and years later, after we are married, moved and settled into our lives, she's a big "dot com" blogger and I'm just a start-up blogger! I feel so honored that she asked me to share a little about myself and my successes!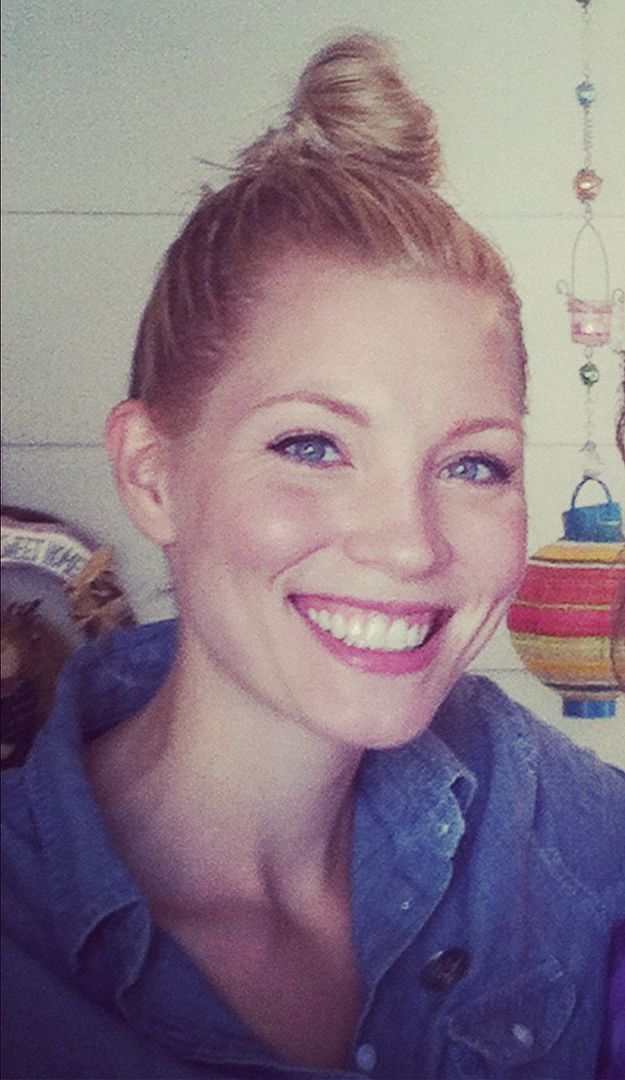 My name is Rachel. I'm a midwest transplant (who loves it here!) and I am a full-time mama to 3 sweet kids (2 boys, 1 girl). I have always been an artist, doing painting, drawing, sculpture, crafting, you name it (art related), I've done it.
About a year ago I caught on to the Annie Sloan Chalk Paint craze and started re-doing my own personal furniture. After a short time, I started selling my work on Craigslist and fast forward to a month ago, when I started selling my furniture in a retail store in the mall! I absolutely love working around my schedule, using my artistic skills, and creating something beautiful and loved from something ugly and rejected! Several months ago I brainstormed what I would call my store if I ever opened one and came up with S
hades of Blue Interiors
because I'm pretty much obsessed with all shades of blue (especially anything teal or turquoise). So, it was just a matter of making it (somewhat) official when I started my blog a little over a month ago with the intention of connecting with other talented people for inspiration, recognition, and so I could have a place to direct my clients when they ask to see my work!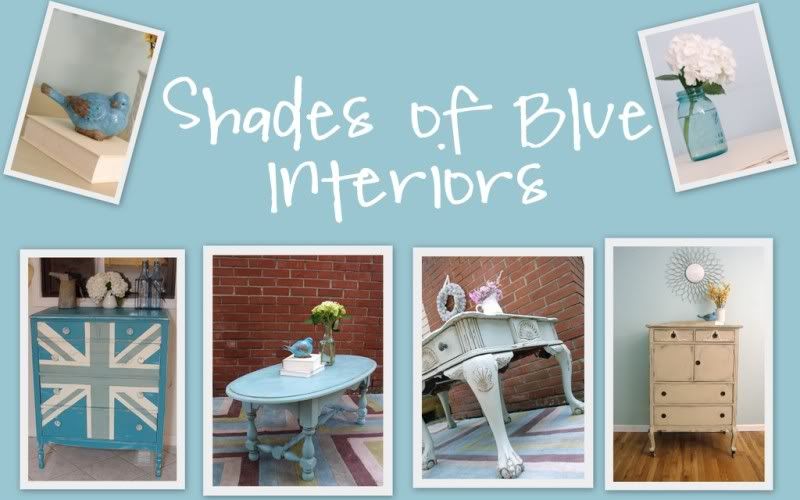 I am going to share with you some of my favorite projects that I've done and sold, then share some tips for those of you who are thinking about starting to re-paint your own furniture or to make it possibly into something more!
I had been painting mostly white & blue pieces (because they sell the fastest) for months before I finally took the plunge and painted this gorgeous coffee table RED! The color is called
Emperor's Silk
and I used Annie Sloan Dark Wax on top of it, to add depth. It is probably my favorite coffee table to date. I loved the claw-foot legs, the two huge drawers, and of course the color.
Another one of my favorite pieces was the
Gray Union Jack dresser
I did. After my very first entry into Miss Mustard Seed's Furniture Feature Friday, it got picked! I love the simple lines, the solid wood, and the neutral colors, while still making a statement with the British flag design. I also love how original this color combination is. I seriously looked everywhere, because I was nervous that the French Linen, Country Grey, and Old White, wouldn't look good together. I ended up getting on the old-school Paint app and drawing a dresser, and coloring it in with the colors I wanted, to make sure it looked good, before I actually plunged in.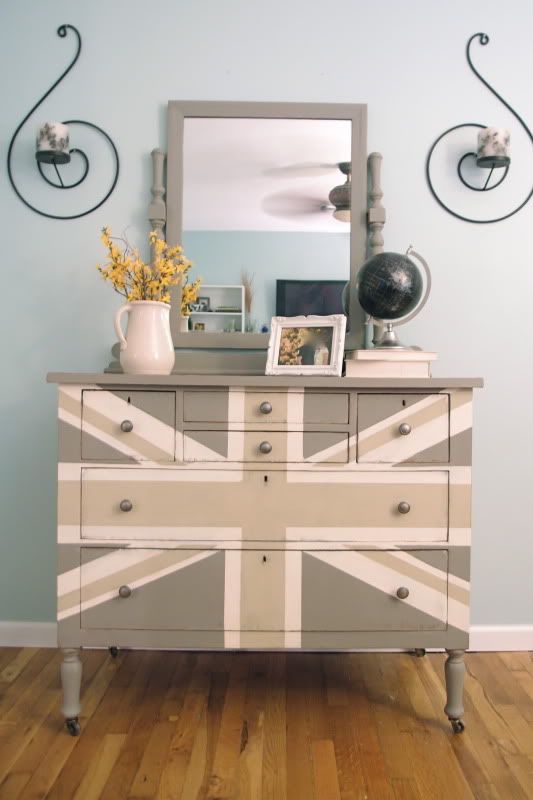 I have a thing for Union Jack dressers actually. Another favorite is the
traditional Union Jack dresser
I did. It just has a rich, regal look about it, I can't help but love it! This was the 3rd time I did the same design (different colors each time) and I often get asked how I do it. I use a trace-projector! I have a mini one that I put over a picture of the British flag and move it around till the size and placement is just right and centered on the dresser-front. Then I use chalk to draw on the lines, then tape over the chalk lines (with frog-tape). I can't even believe people will measure it out and go through all the painstaking math to get it right! I hate math! The mini projectors are less than $50 and they can be used for all kinds of projects.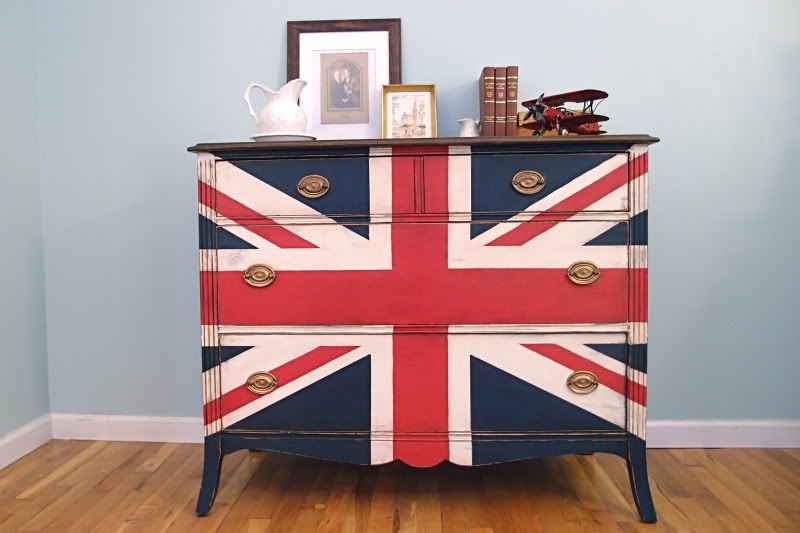 The last favorite that I'm going to share is the
Blue Bird Dresser
I did a couple weeks ago. It was by far the most fun I've had painting furniture. I wish I could have kept this one! I saw the same bird and branch design online and after painting the dresser, just sketched it on with some chalk. Because it was free-hand, I didn't have to worry about it being perfect, which is part of what made it so much fun. It was fast too! I think people are too intimidated by free-hand sketching on furniture, so they rely on stencils. But free-hand allows you to make it your own, unique, one-of-a-kind, which is also what will make you stand out as an artist, and what, coincidently, people pay the most money for!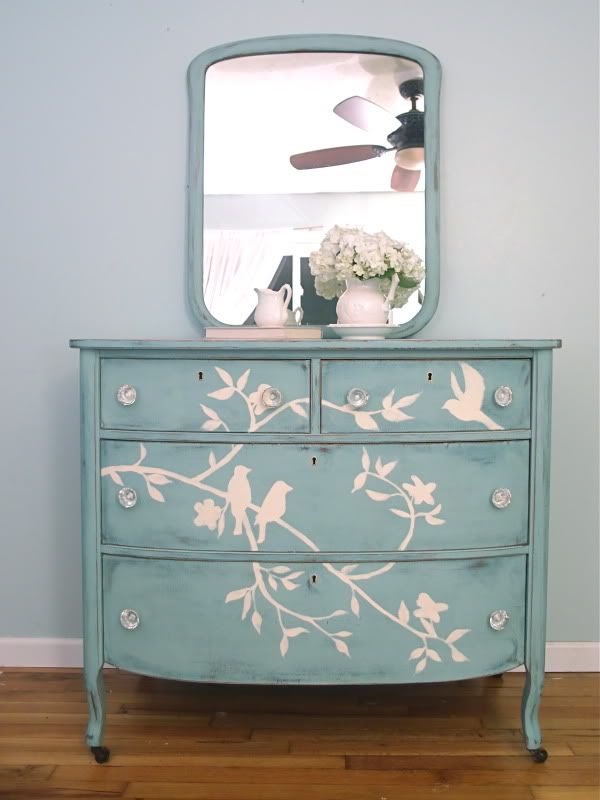 Ok, now on to some tips. If you are a beginner and are debating whether to fork out around $40 for a quart of paint, let me offer you my advice. First, if looking at it for a value standpoint, Chalk Paint is the best value IF you have several pieces of furniture you want to paint, using the same color (ie: 1 quart could easily paint 5-7 small pieces, each with 2 coats), AND/OR you like the distressed, textured, or layered look.
Chalk Paint is an artistic paint, but you don't have to be an artist to appreciate it's potential! For example, when you distress it, the paint comes off in a fine chalky powder... no chips, ever! This makes the piece look authentic. I always try to imagine where the furniture was, how it was used, and where it would naturally show wear as I'm sanding off corners and edges.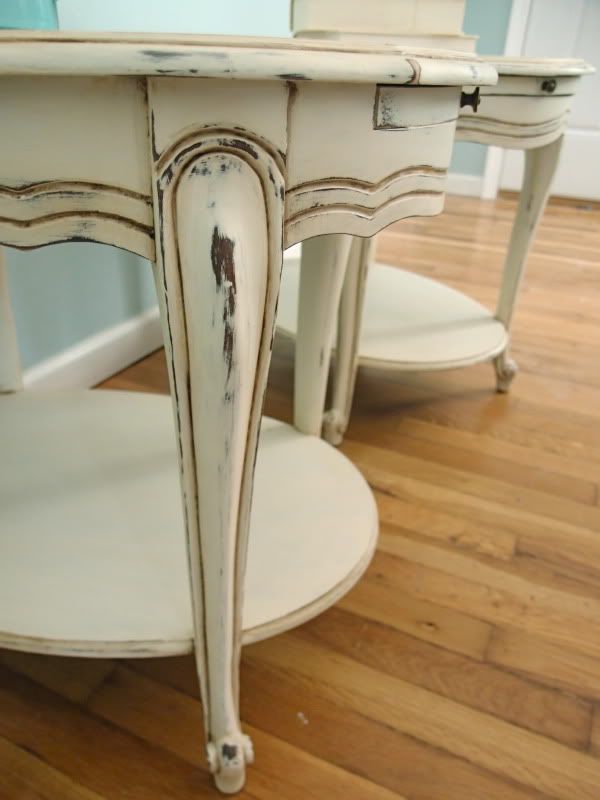 You can also layer colors (like a lighter color over a darker color) and lightly distress to reveal the color dimension. [
View full project here
]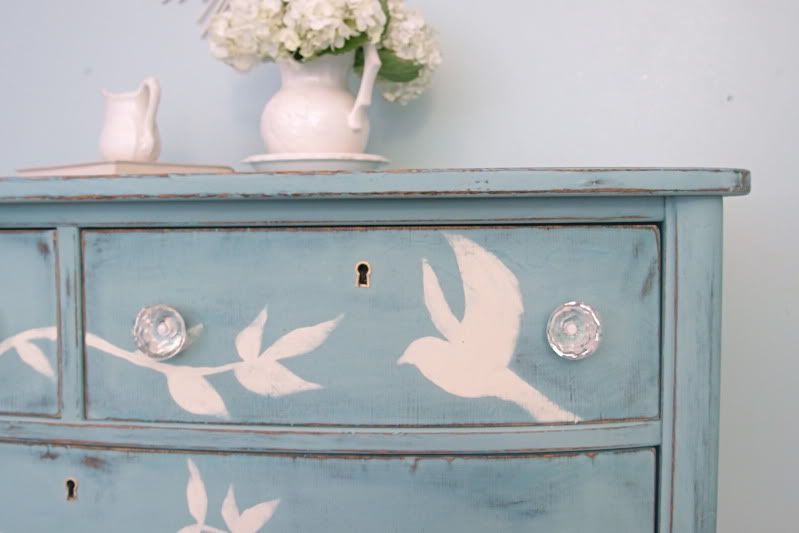 Another technique is to paint unevenly and in all different directions, to add texture, then use dark wax to highlight the texture. This look reminds me of old french plaster walls. It also is more visually interesting to look at. [
View Full Project Here
]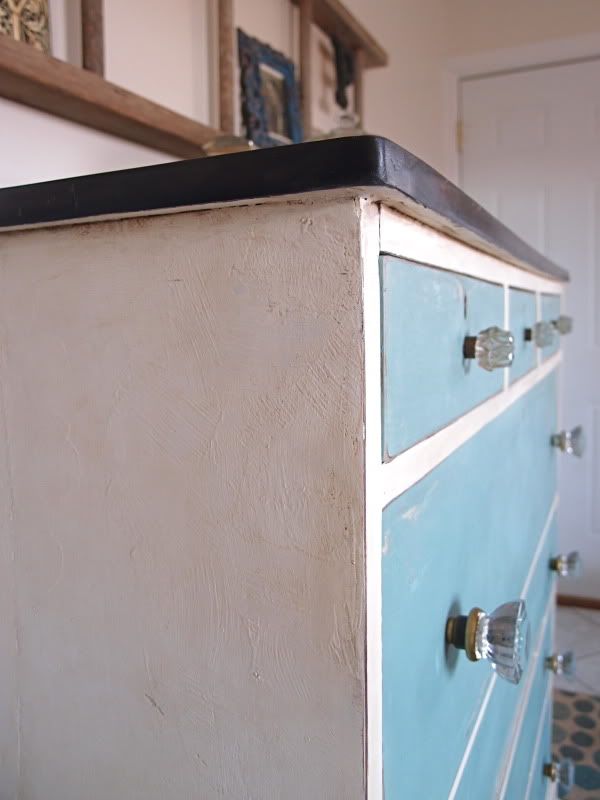 If you are planning on possibly selling the furniture you paint, I'd say it is definitely worth the investment, because you save time, more than anything, and time is money. No sanding or stripping is required beforehand or afterward and you are left with a completely smooth painted piece, ready for whatever kind of protective top coat you want (if any)!
So, for you beginners, I hope I have given some useful information to get you inspired to paint that old dresser you have or that dated night stand. Don't be afraid! Just do it!
____________________________________________________________________________
Thank you Rachel! Please check out
Shades of Blue Interiors
for tons of inspiration and tips!