Father's day is upon us! Jaime's sharing some
super cute Father's Day Cards
, and for any big gifts, Brooke's got your
perfect formula
. But what about gifts from the kids? Here are some quick crafts kids can make as gifts for Dad's special day this week!
1
You could also scale this up for a matching shirt for Dad, captioned "Who's yo Daddy?"
(Kids may need a little help with this)
2
Best Daddy/Grandad Ever (Jelly) Beans
printable from the letter 4
How about a "For the best dad who's ever 'BEAN'" sign?
3
I got this frame at a Dollar Tree, but you can do this with a Silhouette or Cricut or even an Exacto knife and poster board. The kids can help you pick & position the photos.
4
Homemade Stress Relief Balls
from Craftivity Corner @ Family Education Blogs
Perfect for relieving that homemade stress.
5
Father's day tie scavenger hunt
from here on Wayward Girls' Crafts
Sorry, iPhone not included.
6
Dozens of Father's Day Handprint and Footprint
crafts from . . . Handprint and Footprint Art
Or you could use a sock: I love you more than rocks from your nose to your socks!*
*This may only work in our family.
7
Daddy Tokens Tin
from Eighteen25
Cool take on coupons!
8
DIY Lenticular photos
: use photos of your kids or family from here on Wayward Girls' Crafts
9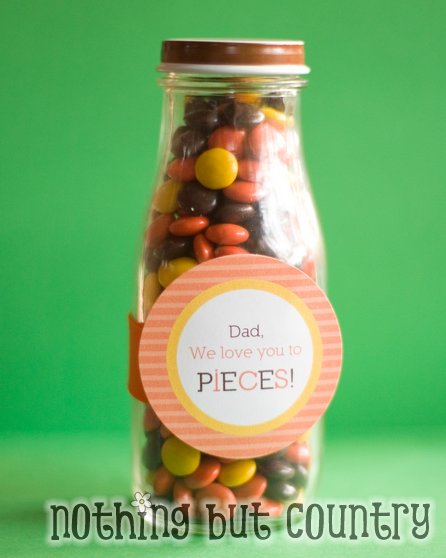 Dad, we love you to (Reese's) pieces!
printable from Nothing but Country
10
Personalized note cube
from Cool Mom Picks @ BabyCenter
11
Father's day coupon books
from here on Wayward Girls' Crafts
12
Love notes on paint chips
from Eighteen25
13
Daddy's Soda with shirts and ties
from The Idea Room
It says soda.
14
Fabric paint or even acrylic to put a footprint on a tie
You don't machine wash ties, do you?
15
Free printable All About Dad book
from Eighteen25
16
I love you THIS much/hug card
from Day in My Life
Especially great for celebrating long distance
17
Check out our
desserts
and other
recipes
here on Wayward Girls' Crafts.
If all else fails, the way to a man's heart is through his stomach!