Do you have a Trader Joe's? We got one in my area last fall. At first, Trader Joe's can be very overwhelming: they have tons of products, but what should you get? Here are my recommendations from a newbie Trader Joe's lover.
1. Speculoos Cookie Butter. I finished the whole thing, by myself, in record time. I refuse to buy it again because I cannot control myself around it. But you simply must try it. Spread it on just about anything. Or eat it straight out of the jar with no shame.
2. Trader Ming's Mandarin Orange Chicken. Tastes like your favorite take out place, maybe even better! It's cheaper than and a super easy dinner. We have eaten it at least 7 times, including last night. And I thought to myself, "This is better than Panda Express"
3. Trader Joe's Dark Chocolate Covered Peppermint Joe-Joe's. SUPER rich and tasty. Sadly only available around Christmas. The dark chocolate and peppermint make these to die for! I'm not, however, a big fan of regular Joe-Joe's. I think I'd rather have Oreos.
4. Trader Joe's Tortellini with Pesto Filling. This is a super fast dinner we love to have on hand. One bag feeds us both twice!
5. Trader Joe's Flank Steak Pinwheels. Made me realize I actually liked feta cheese. My husband and I both liked them so much, I made my own version for Valentine's Day.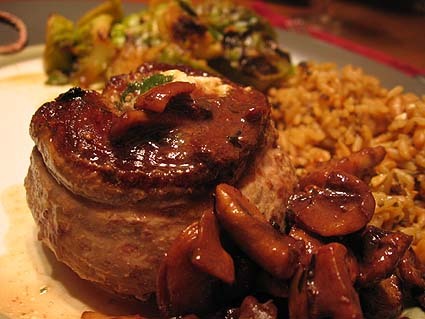 Honorable mentions (things I keep buying at TJ's): bagged baby spinach, salted creamy peanut butter, dried cranberries (my husband loves the orange flavored ones), hummus salad dressing, Kung Pao chicken (my husband's favorite), and pizza. Their candies are really, really good too.
What's YOUR favorite product from Trader Joe's?