On Memorial Day, some friends threw a small barbeque. We enjoyed a lovely spread, including grilled kabobs, fresh veggies with hummus and watermelon. For dessert someone brought blueberry white chocolate chip cookies. They were store bought cookies so I wasn't all that excited. Call me a cookie snob but we all know that homemade cookies > store bought. Except I tried one and I was AMAZED! So now I want to make the store bought cookies into homemade cookies, but I put it on the back burner. Who has time to experiment? But my friend and fellow blogger, Ashton at
Something Swanky
, inspired me. She is so talented at finding inspiration and making a recipe her own. So I decided to try it! I found a recipe on We Are Not Martha for
Blueberry, Lemon and White Chocolate Chunk Cookies
. I adapted it to fit what I was looking for.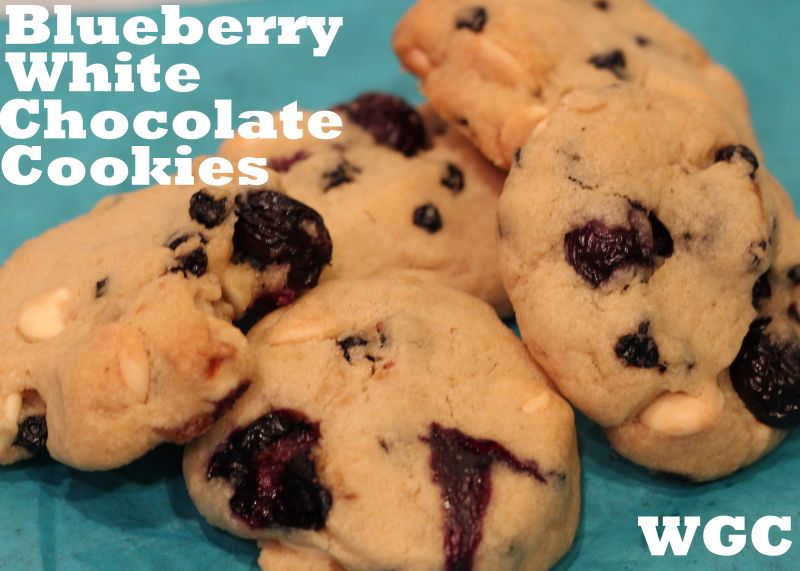 1.5 sticks unsalted butter, softened
1 cup brown sugar
1 egg, room temperature
2 cups all purpose flour
1 teaspoon baking powder
1/8 teaspoon salt
1 cup nice white chocolate chips (they make all the difference!)
1/2 cup dried blueberries
1 cup fresh blueberries, washed and dried
Preheat oven to 375 degrees. In a large bowl,
cream butter and brown sugar together with a hand or stand mixer. Then,
add the egg and vanilla. Mi
x the flour, salt, and baking powder in a separate bowl. Slowly add small amounts of the dry mixture and mix with electric mixer until fully incorporated with the wet mixture. Next, add in the white chocolate chips and dried blueberry in nice and gently. Then gently mix the fresh blueberries. Scoop the cookies in 1 inch balls and put them on a greased cookie sheet about 1-2 inches apart. Cook for about 13-15 minutes or until the edges are golden brown. Allow to cool on racks.