I think one of the most important parts of party planning is the games or activities planned for the evening. The decor could be great, but if there isn't a lot of mingling, people will leave early. So my party planning crew and I worked hard to make sure these activities would be enjoyable.
We had two games at the party. The first turned out to be the main event. As people were arriving we had them pick a card. Each suit then became a different
team, breaking up couples and mixing people up. When all the guests were there and most people had a little something to eat, we announced the game. Each team was given its own work space (table). On the table they found a brown paper bag with the supplies for the game and directions. I've found that you will have to explain the game at least three times but with written rules/directions you will only explain them once and then you just refer them to the written directions! The activity, was of course, building a house of cards. We gave each team two
decks of cards, tissue paper, pipe cleaners, dry pasta, marshmallows and a glue gun. They were to build their house on a foam board, purchased from Dollar Tree. The teams were instructed they would judged on structural integrity, height and ascetics. We gave the groups a little over thirty minutes to construct their houses and had a dramatic countdown during the last 10 seconds. When time was up we yelled "Hands off!" a couple of times, just like on those Food Network challenge shows. We had each team present their creation and explain their inspiration, etc. We had everything from Ghostbusters Stay Puft Marshmallow Man to a Scotland castle represented! Each team took a picture with their creation and then we broke out the measuring tape to see just how tall each of them were.. Finally, an "earthquake" was simulated for each house to test its structural integrity. (Bragging: my husband's team's house withstood 10 seconds of the
craziest
earthquake you've ever seen. We deemed it
indestructible
). We awarded each team points according to height,
a
esthetics
and structural integrity. Judging was tough but really fun too!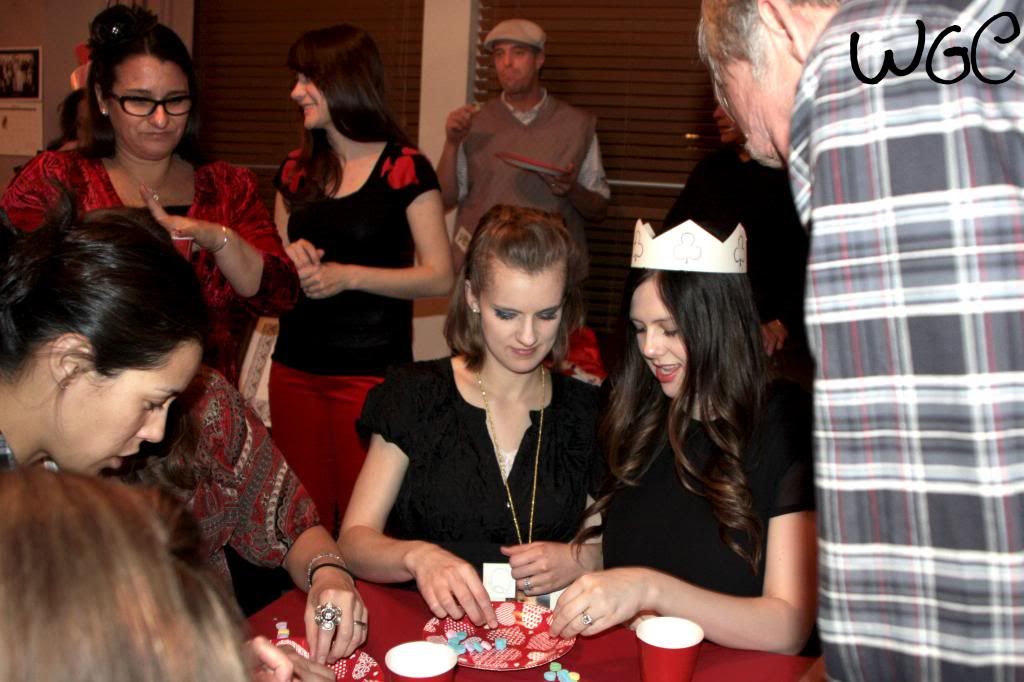 This was the best part of the party, because it got people talking and mingling. It involved both the guys (building) and gals (creative). And got people working together. It was so fun to watch and the party planning crew was giddy to see how much fun people were having.
Our second activity was fun but not as big of a hitl. We had 42 guests at the party, which was a large crowd. It worked well for the house of cards game, but not as well for the second game we played, which we called Two of a Kind. There were three rounds to this game. For each round, each team had to have a set of partners come up to contend. We set up around a card table, with each set of partners on a side. The partners linked arms and then had to complete an activity using their free or outside arms The first to finish the activity earned 25 points for their team. The first round we had them stack 10 conversation hearts on top of each other. The second, tie a shoe. The their was the most entertaining, put a diaper on a baby doll. One team thought they'd won, but we stated they were disqualified for having the baby doll's arm through the leg hole of the diaper =) In the end we thought this activity was fun, but with this large of a group, people were done with games and just wanted to eat and socialize. Lesson learned!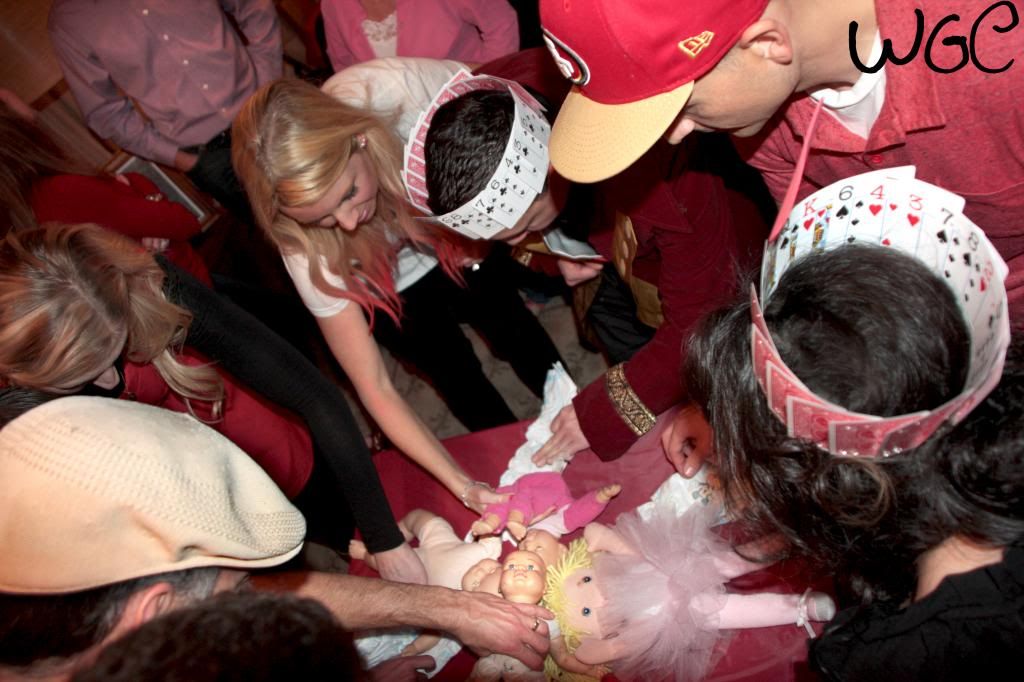 In the end we awarded the prizes for the best outfit for each suit. They were given a goodie bag and a necklace with a playing card on it (they were actually for Mardi Gras but were perfect and at Dollar Tree, so I had to get them). We then announced how each team did in both games. The overall winner was then awarded a box of chocolates!
As you can tell, the decor and games weren't all that Valentines-y so this would be a great theme for a party any time of year! It's also great for both single people and married people. We had fun and are excited for next year's Valentine's Day Party!