I love coming across other sister blogs in the craft blogosphere. I always feel an instant connection with other sisters who are blogging about crafting together, and I want to share these fantastic blogs with others. So this time, I'm sharing . . .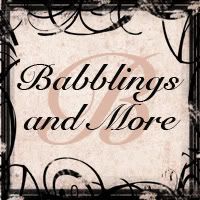 Last week, the lovely sisters behind Babblings and More were kind enough to
feature us
, and this week, we're spotlighting them here:
Bridget, Briana, Brooke & Brittany
Or, in age order:
Briana loves to cook, but doesn't like the cleaning part as much. She goes through phases on what she likes to do. Sometimes it's reading, or sewing, or jewelry making, or card making, and the list goes on. She loves photography and loves learning how to edit pictures.
Brittany is very talented at canning. People come from miles around to learn from her. She also makes beautiful quilts. And she has a box of homemade cards to send to friends and family. She NEVER forgets a birthday and will gather her whole family around the phone to sing to you!

Bridget has a Candy Shop called Do T Do

, where she makes hard candy and suckers out of Essential Oils. It keeps her busy like a part time job and the best thing about it is that it makes her house smelling yummy. Other than candy making she likes to do leather work and fiddle around with her sisters.



Brooke likes to sew, cook, bake and try anything new- but Brooke's favorite thing to do is play the fiddle on the weekends at the Big Texan Steak Ranch.
And they're all very talented at crafts! Just check out some of their awesome posts:
And no Saturday Sister Spotlight is complete without a . . .
Saturday Sister Challenge!
Babblings and More has accepted a Saturday Sister Challenge around the theme of
POPSICLE
!
We'll update this post as Babblings and More post their responses to the challenge, but you can see all their great crafts on their
blog
,
Facebook
or
Twitter
!
Briana created this adorable popsicle shirt!
So cute!!