Hello all you newcomers! Today we're participating in
Blogelina
's 100 Blog Comment Event. We wanted to tell you a little bit about Wayward Girls' Crafts as well as keep our faithful followers (hi guys!) entertained by letting you in on new information. Here we go!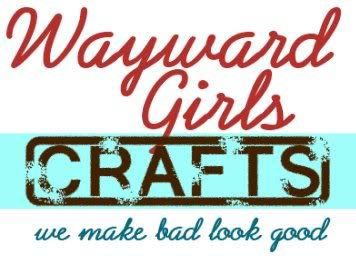 Who are we?
We are four sisters and a mom who love to create. Jordan, Jaime, Brooke, Jasmine and Mom/Diana. We're Wayward and we know it.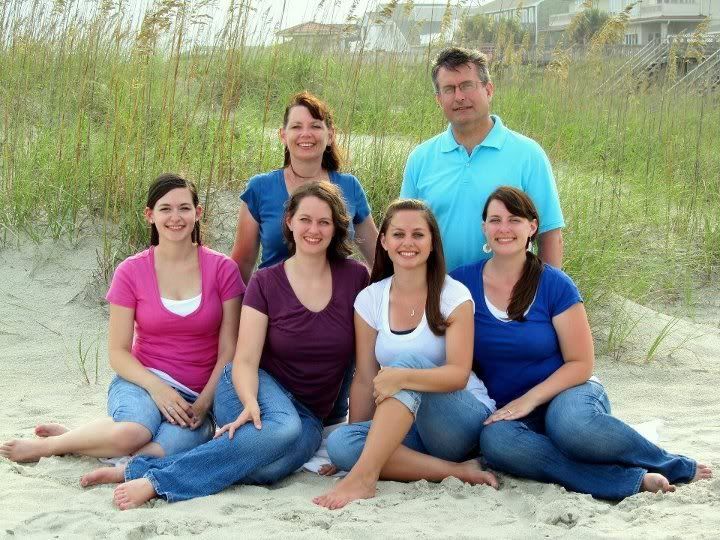 Front row: Brooke, Jordan, Jasmine, Jaime
Back row: Mom/Diana and Dad (Wayward, but not a Girl)
Why "Wayward"?
The term Wayward Girls comes from a
silly answering machine message
from long ago. We applied it to our crafting method when we started our blog last year. What's so wayward about it? We are willing to tackle projects without really having a back-up plan and without really knowing what we're doing. We are up for trying to recreate something we've seen elsewhere and without a pattern. We're open with the mistakes we make along the way and we're happy about it. Check out more about
waywardness here
.

Getting to know
Just Jaime
:
Why did you all start Wayward Girls' Crafts?
Early last year I started exploring crafting blogs as I researched ideas for a baby shower for Brooke. I discovered a whole niche of blogs I never really thought about before. The wheels in my head started turning. I wanted to have a craft blog, but I knew the responsibility of posting every day (and having that many crafts completed!) was too much. I decided to invite my sisters and mom to craft too. It has become something that has helped us keep in touch and bond. It's always fun to have a project amongst a group of women and I love what we've done with it. I'll never regret starting WGC.

Jaime's favorite crafts (pictures are clickable!):

Getting to know
Jasmine
:
What's a fun crafting memory you have of the Wayward Girls crafting together?
A fun memory I have of crafting with my sisters and mom (other than giving Barbies make-overs) would be when we had a crafting extravaganza with our aunts as well one Christmas season many years ago. We all brought crafting ideas and made a bunch of crafts. Most of them were ornaments. It was fun to bring together a whole lot of ideas, teach one another about a craft, learn from one another, and most importantly enjoy what we were doing.

Jasmine's favorite crafts (pictures are clickable!):

Getting to know
Jordan
:
What's been the most useful thing you've learned from writing WGC?
To embrace the Waywardness! Like a lot of people, I can get so caught up in trying to do things perfectly, especially on the first try. My crafts--and my life--aren't perfect. Sometimes it feels like they go awry or fall short of my expectations more often than not. But blogging about my crafts has helped me to celebrate the failures as well as the successes, and given me the courage to keep going my own "wayward" way through life.
Jordan's favorite crafts (pictures are clickable!):

Getting to know
Mom/Diana
What do you get out of blogging?
I get so much! I enjoy that I'm kind of forced to be creative every week. I enjoy crafting but don't always spend my time that way. Because we all rely on each other, blogging together, I know I have to hold up my end of the deal to all our loyal readers. I really love what I've been able to create and share, and I love when people comment on something I've created, and I get to say, "Thanks, I made it myself!"
Mom/Diana's favorite crafts (pictures are clickable!):

Getting to know
Brave Brooke
:
What do you like best about Wayward Girls' Crafts?
The thing that I love most about Wayward Girls' Crafts is there is no illusion that I'm perfect. We try to help our readers feel that we make mistakes and we make the best out of them. It is okay when things don't go exactly as we planned and sometimes they don't work at all.
Brooke's favorite crafts
(pictures are clickable!)
:
So how do you get to be Wayward too?
You can follow Wayward Girls' Crafts with Google Friend Connect or
RSS Feed
, like us on
Facebook
, follow us on
Twitter
, or join us on Saturdays for
Wayward Weekend
, a link up party for crafts and recipes. Thanks so much for stopping by!